INPP Practitioner Training 2021-2022


Applications for the 2021/2022 INPP Practitioner Training Course are NOW OPEN.
Are you a professional working with children and adults who have learning or functional challenges?  Then this course will interest you.
INPP Practitioner Training is offered Internationally in over 12 countries and in Australia by experienced Neurodevelopmental Educator and Consultant, Dr Christine Payard (PhD). 
How we learn and function is much more than just a brain-based activity.  Our body primes our brain for learning, supports and helps us learn.
The INPP Practitioner Course helps you understand the basic neuro-motor and sensory maturity aspects of development that impact learning, and how to identify and address immaturity that you discover in the neuromotor and sensory systems of your clients.
Professionals working with clients who experience learning challenges and functional difficulties can use the INPP Method to help identify and examine how the body prepares the brain for learning from an early stage in life, AND, how the body and brain can change to enhance and support the learning process for each client. 
If we don't pay attention to the body and what it is telling us about how we function, then, we are missing some of the greatest clues and cues about understanding how we learn, and the blocks that can get in the way of learning, function and fulfilling our potential. 
PRACTITIONER TRAINING INFORMATION SESSION and Q & A  Promotional clip. by Christine Payard.  To gain access to watch the recording of the Q & A Session, click on this link!
Become an INPP Practitioner.
You can assess and address neuro-motor and sensory immaturity that often underpins learning and functional challenges by using the proven INPP method.  [Neuro-motor immaturity (NMI) is defined as the retention of primitive reflexes beyond the age of 12 months and/or underdeveloped postural reflexes above the age of 3 years.] You will learn what NMI means, what it looks like, how to assess it and how to address it in a clinical setting. 
The INPP method helps remediate and improve the maturity of the neuro-motor and sensory systems using non-invasive, developmental, movement exercises. 
For over 40 years, children and adults around the world have benefited from this therapeutic intervention programme that uses the principles of neuro-plasticity to help address the issues underlying many functional and learning challenges.
The INPP Practitioner's Course is based on the original work of Dr Peter Blythe (PhD) and is delivered globally by INPP Principals. Australia's INPP Principal is Nueordevelopmental Educator,  Dr Christine Payard (PhD).  
The common curriculum in the INPP Practitioner's course includes 4 modules:
The history and theory behind the INPP Programme;
The INPP testing protocol;
The INPP therapy and exercise programme;
An exam and assessment module.
Each participant is trained in the INPP Method leading to Licentiate Membership of INPP International and Certification by INPP International.
The next INPP Practitioner Training Course in Australia begins on October 14th, 2021. 
Applications close September 30th (Early Bird registration closes September 17th, 2021 and provides considerable savings).
Places are limited in each course (max of 10 people).
(By the way, there's an extra bonus worth around $200 if you sign up by September 1st).
Details:
Module 1: The INPP Method:  Introduction and Theory  (Online delivery). 4-day module delivered in 2 parts:  Part 1: October 13th & 14th, Part 2: October 28th & 29th, 2021.
Module 2: The INPP Testing Protocol. 5-day module delivered in Cairns:  November 22nd to November 26th (Monday to Friday), 2021.  Dates to be confirmed in Module 1
Module 3:  The INPP Intervention & Exercise Programme. 4-day module in Cairns:  February 15th to 18th (Tuesday to Friday), 2022.
Module 4:  INPP Practitioner Exam.  (Remote delivery or face-to-face, to be negotiated with participants).  3 -day module. Tentatively set for April 27th April 29th, 2022.  Venue and dates to be confirmed with participants.
(PLEASE NOTE: Course delivery of face-to-face Modules has been changed to Cairns).
Apply now for one of the highly valued and limited positions in this course by downloading the course information, completing the application form included in the information package and sending it through to us for consideration. 
What others have said about the course and your presenter: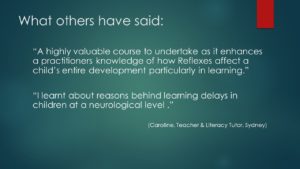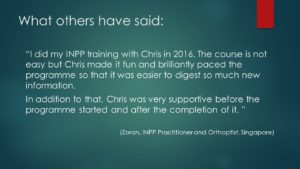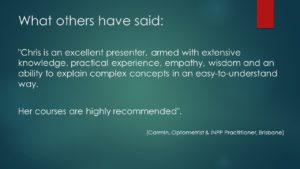 And more recently:
"I'm so excited! I have really enjoyed the course with you. Thank you for your knowledge, your kind attitude and flexibility. So happy to be joining your network!" (O.B. 2021 INPP Trained Practitioner)
If you are a professional educator, allied health care practitioner, psychologist or have a degree aligned with these ways of working, this is likely to be a great course for you. 
---

QUESTIONS?  WANT TO LEARN MORE?
that was held on August 26th, 4:30pm (AEST)
---
ATTENTION:  2021, 2022 Course delivery note: 
The INPP Practitioner Course is based on bodywork and is best delivered in a face-to-face mode, particularly Modules 2 & 3 of the programme.  If circumstances prevent the delivery of the programme (eg. COVID-19 restrictions), dates and delivery mode may be altered. All training for this course offering will occur in Cairns for 2021 – 2022.
Integrating Thinking does not accept any responsibility for factors such as this impacting the delivery of the course.  Changes in delivery of this course in 2021 – 2022 will be negotiated with participants if required.