Enrol now in How the Body Tells the Learning Story.
Course details:
How will the course be run?
It's all online. 
Each week, as a participant, you will access a live webinar (45 – 50 minutes on average) with a quick 20 – 30 minute Q & A session after the presentation.  These sessions will be recorded and available for a short time for you to watch if you missed the live presentation.
You will be provided with prompts for triggering thoughts, discussion points and reflection in your professional context to support your learning. You can use these presentations as an opportunity to take notes and jot down questions to discuss in a subsequent online 1-hour live Q & A session with Dr Christine Payard (PhD),  Director of Integrating Thinking

(R) 

and founder of the Body to Brain Learning (R) Professional Learning Series.  This additional Q & A sessions will be held 2 days after the presentations so those who couldn't make it to the LIVE event can catch up. (The only presentation that doesn't definitely have a live Q&A afterwards is  Session # 6 "The Teacher's Story")
The online discussions/tutorials/Q& A sessions offer you an opportunity to ask questions about your school context, what you see and what it may mean for the students in your classrooms.  Group discussions — tapping into participants' group expertise is a great way to learn and be encouraged.
Every session includes practical activities to illustrate the concepts discussed in the presentation so that you gain some insight into the experiences we are talking about in this programme. 
This is where the theory of a neuro-developmental learning approach starts to meet practice in your context. 
Aligned to AITSL standards, this course provides you with up to 12 hours of professional learning presentations and conversations that can contribute to continuing professional learning/development records.  A certificate of participation can be made available on completion of the course on request.
How the Body Tells a Learning Story articulates with and leads to other professional learning opportunities provided by Integrating Thinking through its Body to Brain Learning® Professional Learning Programmes and affiliate training through INPP Australia.
KEY DATES 2021: 
ENROLMENT CLOSES on Thursday, April 22nd (Midnight AEST).
Session 1: Introduces you to "The Role of the Body in Learning." This Masterclass explains why this is an important perspective and why we need to use this new paradigm and way of thinking in education to help our children learn more effectively. 
This free Masterclass was delivered on March 30th. (A recording of this event will automatically be sent to you when you sign up for the rest of this course.)
The rest of this learning story will be delivered as follows: 
Session 2: "The Body Tells a Learning Story About Balance."  Tuesday 27th April 4 pm with a Q & A session 2 days later at 4pm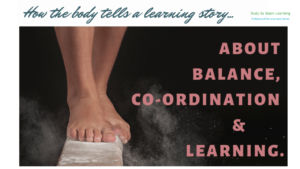 Session 3:  "The Body Tells a Learning Story About Vision." Tuesday 4th May 4 pm with a Q & A session 2 days later at 4pm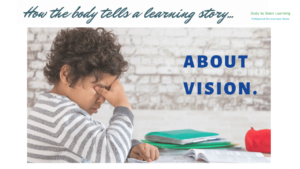 Session 4:  "The Body Tells a Learning Story About Hearing." Tuesday 11th May 4 pm with a Q & A session 2 days later at 4pm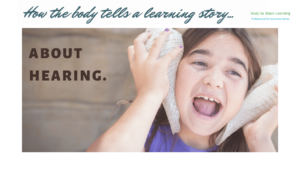 Session 5:  "The Body Tells a Learning Story About Neuromotor Readiness to Learn." Tuesday 18th May 4 pm with a Q & A session 2 days later at 4pm.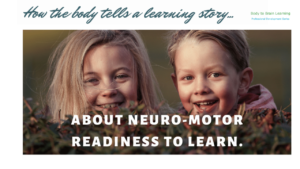 Session 6: "The Teacher's Story." Tuesday 25th May 4 pm with a possible Q & A session 2 days later  (TBA).
INVESTMENT OPTIONS:
FULL PROGRAMME: The investment in the FULL professional learning opportunity for an individual participant is usually $697 (AUD) (incl GST), but for the first offering in 2021, you can participate in the whole programme for $397 (AUD) (GST inclusive).  This provides you with 6 presentations, access to Q& A sessions with Dr Christine Payard (PhD) following the sessions, and bonus downloadable resources/material to use in your classrooms.
INDIVIDUAL SESSIONS: If you want to enrol in the sessions separately or one at a time,  you can do that too.  The cost for each session (including the Q&A sessions) is $97 (AUD) (incl GST).  

Obviously it's cheaper to purchase the bundle of sessions, but we understand that sometimes life happens and this option may suit you better.  When you go to the enrolment page (use the button below) select each session as you need.  
This way of working, this paradigm shift, will help you answer questions about what you see in your students' behaviour and posture in the classroom and what that means for their learning.  Enrol NOW. 
Note:  Pricing for a school-based group approach can be negotiated. Contact: Chris@integratringthinking.com.au for more details.
Need more information:
Further explanation of the course can be found on our course explanation page: "How the Body Tells the Learning Story." 
 or email us:  admin@integratingthinking.com.au