About Us
Dr Christine Payard (PhD) (Director and Principal Practitioner) 
Christine's professional experience includes over 30 years in Education and over 20 years in the world of optics and optometry through ownership of a family optometry practice.
Her lifelong passion for learning and learning about learning has led Christine to pursue further studies in a variety of areas including conducting research in thinking, literacy, professional learning and the neurophysiological aspects of learning that impact educational success and performance. Her experience in small business has led her to complete studies with the Australian Institute of Company Directors.
Christine has shared her knowledge and experience with others as a consultant and educator in many different contexts including:
State and Catholic Education schools (primary and secondary), 
University and TAFE institutions;
with principals, teacher leaders, teachers and early childhood educators through private and organisational consultancy work;
with business managers and employees in small and large private businesses and enterprises:
local government, manufacturing and industry groups
community groups including Early Childhood Learning Networks. 
Christine's educational consultancy work includes supporting educational leaders and teachers in ways to use the body to support learning in classrooms, implementation of the Australian Curriculum, change management processes, data collection and analysis, and supporting literacy and numeracy learning in the P – 10 school context. She is a registered teacher and participates in regular professional learning opportunities to ensure currency in educational, neuro-developmental, early learning and curriculum areas.
Christine is a public speaker and provides a variety of professional learning opportunities and workshops customised to suit the professional learning goals of the organisations with which she collaborates. She is the founder and principal presenter of the Body to Brain Learning Professional Development Series.
As a trained Neuro-Developmental Educator, Christine also enjoys working with a small number of clients on an individual basis to identify, investigate and develop programs to address underlying physical factors such as immature balance, coordination, visual and auditory processes which may impact on student learning, performance and achievement. She uses, and teaches, the INPP Method in her practice.
In 2013 Christine was appointed the INPP Principal in Australia with the responsibility to deliver and administer the INPP training and Licentiate programme in Australia.
About INPP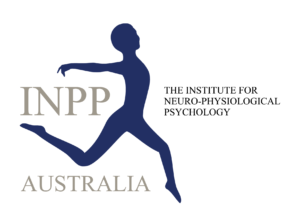 Training in the INPP Method is offered in Australia in connection with the Institute for Neuro-Physiological Psychology in Chester, UK.
The Institute for Neuro-Physiological Psychology (INPP) was established in 1975 by psychologist Peter Blythe Ph. D. The Institute was set up as a private research organization to investigate the effects of immaturity in the functioning of the central nervous system in children with Specific Learning Difficulties and adults suffering from Agoraphobia and Panic Disorder; to devise reliable methods of assessment; and to develop, supervise and evaluate effective programs of remedial intervention. INPP is a self-funding organization involved in research, clinical practice, and training in the methods developed at INPP.
Since 1975, INPP has treated many thousands of children and adults with problems linked to immaturity in the functioning of the central nervous system. It has also carried out published research into the efficacy of methods developed at INPP.
Dr. Peter Blythe started to provide training courses for small groups of professionals in the United Kingdom and Sweden in the late 1970's. During the 1990's a formal training course in the methods developed at INPP was established in the United Kingdom and this course is now available under licence in Germany, Italy, Poland, Finland, South Africa, the United States and Australia. INPP-Chester is the certifying body for all countries providing training in its methods.
Sally Goddard-Blythe is the current Director of INPP International.  Christine Payard trained in the INPP method with Sally and Peter Blythe before being appointed as INPP Australia Principal.  She is committed to ongoing professional development and continuing education in the field of neuro-developmental education.