My Body Learns First @ School: A Neuro-Developmental Approach Supporting Better Student Learning in Schools.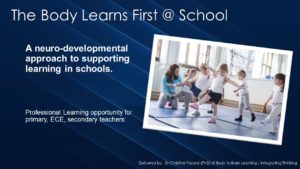 One of our "Body to Brain Learning" Professional Development Series, "My Body Learns First @ School" is a professional learning opportunity for primary, ECE and secondary educators, and is contextualised for Australian Education, including the delivery of the Australian Curriculum.
Participants learn about the importance of the body to brain connections that fashion our learning experiences.  They will learn to identify and then address neuro-motor and sensory immaturity that often underpins student learning challenges and difficulties in school environments.
Results of this program in schools include:
increased engagement of learners, 
creating readiness for learners,
enhancing learning potential by looking at underlying neuro-motor and sensory foundations of learning, and
greater professional satisfaction for teachers because their students are more settled.
Schools that have implemented this program in Australia (and internationally) report improved reading, writing, engagement, NAPLAN results and other positive effects.
This is a way of providing support for the whole child because it helps meet the differences in the neuro-biology of students at a foundational learning level.  This is what Peter Harrison, Principal of Tyres Primary School, has said about their school success with this way of working:
 
Watch this video in which I interview two teachers who tell us about the results and impacts of using this approach in their schools:  (It's pretty exciting! It's about 30 minutes or so, grab a cuppa and hear what they have to say.)
Want to know more?  Register your interest in these programmes and stay informed of developments for delivery in 2020 & 2021: 
---
"My Body Learns First @ School" is one of Integrating Thinking's "Body to Brain Learning" Professional Learning Series.

Other "Body to Brain Learning" presentations and information sessions for schools, parent groups and professional bodies include these topics: 
"The Body Tells a Learning Story…"  for teachers and early childhood educators.
"Learning with the Body in Mind." Tips for parents and caregivers in the early years. (Coming soon)
"Reflexes, Learning & Vision Therapy." Optometrists and Vision Therapists.(Coming Soon)
 Neuro-Motor Immaturity, Sensory Development and Learning community presentations. (Available on request)
---
Interested in organising a school-based professional learning program? 
Introductory presentations regarding the importance of considering & addressing neuro-motor readiness for learning in schools for school staff or parents; at staff meetings or parent information events. Ideal: 45 minutes to 1-hour keynote presentations.  These sessions are usually presented at no charge and can be face-to-face (if you're within reasonable driving distance of Cairns), or by teleconferencing.  Click the button below to submit details about your school or community group so we can contact you.
---
Please note:  Minimum numbers are required for courses to proceed.  Integrating Thinking reserves the right to cancel or postpone training if minimum numbers are not met.