"It's Like Magic!"
Using the INPP(R) method in practice is described by some of our practitioners as a "little bit magic" and I have to agree with them. 
Here's a story why: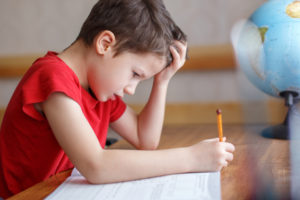 Last year I was working with an 8 yr old (I'll call him Troy) who had been struggling with learning to read and write.  He loved school, learning and the social aspects but was really struggling with his reading and his writing was illegible most of the time.  He would lose his place while reading and copying, could not recognise words on the next page and couldn't hold enough information in his head while he was reading to comprehend what he was reading.  He was focusing on the sheer intense & tiring process of reading the print on the page in front of him. He definitely wasn't reading for meaning. Troy's vision tests were "fine" — apparently no problems there. (Hmmmm! More on that another day!) 
Troy's Mum was concerned because, at this age, he had started to really notice the gap that was growing between his and his classmates' ability in class.  He was beginning to feel dumb, although his parents (mum in particular) knew that was far from the truth.  He was articulate, could tell you about amazing things, asked great questions and was a delight to work with.  But… school was becoming a drag and he was losing interest.  He was in grade 3.  The OT at school wasn't able to provide sufficient support for him (time limitations were part of that), the teachers were struggling to support him and there were lots of adaptations and strategies being implemented to support his difficulties. Mum wanted to look a bit deeper to see if there was something underlying his issues. She found out about my work through a mutual acquaintance who had seen great results with another child with whom I had worked.  With nothing to lose, Mum brought Troy to see me.
An assessment using the INPP assessment protocol and a few other discussions confirmed in my mind that this was the programme for him.  We discovered Troy's vestibular system was immature (dynamic balance was great, but static balance was poor).  Co-ordination was a bit wonky in slow movement tasks (although they were great in fast movements.  Riding bikes, motor-bikes etc was no problem for him, in fact, he was exceptionally good at that.), and his ocular motor skills weren't good either.  Put the balance and vision stuff together, and well — he was working extra hard just to control his body, let alone learn academically.  His primitive and postural reflex profile also indicated there was neuro-motor immaturity at play there.  In short, his body wasn't supporting his system to learn and he was fighting his body in class to concentrate, focus and comprehend the written word.  Sitting still was just really pushing it for him. Academic learning in class was becoming harder. He was enjoying school less and… Troy was starting to play-up a bit.
After 4 weeks of doing the first exercise in the INPP programme, his mum rang me to share the progress.  "It's amazing.  He has gone from 3/20 in his spelling to about 17/20.  He is reading more fluently and is enjoying it and… we are just blown away by this progress."  They continued with the programme and Troy is doing well at school now — his grades have improved.  He still has some way to catch up (he's struggled for 3 years, so the gap is still there), but he is catching up and best of all — he doesn't feel stupid anymore! He's reading novels and his writing has improved.  He can remember what was happening in the story and wasn't focused on word attack skills anymore. 
The exercises I gave him were based on the results of the INPP neuro-motor and sensory test I conducted that revealed his reflex and sensory profile.  Within 4 weeks, his body had started to support his learning journey at school and we found the "magic" for him. 
But, it isn't magic.  It's physiological.  It's developmental and it's neurological.  If we know what we are looking for, how to look for it in our student's/client's body responses to standard neurological tests, and how to address the issues, well, then we are better placed to help a whole group of students who just don't seem to be cracking the academic learning code.  That's not magic. That's developmental movement therapy (specifically the INPP(R)  method being used in the right place with the right client.
I can tell you many stories about this work (and given the opportunity, yes, I probably would). But, this process/method is something I can teach you.  This method makes a difference in the lives of the clients we work with, in the families that we work with and for the teachers and others who work with these children who are challenged by neuro-motor and sensory immaturity issues.  It works for heaps of children and adults.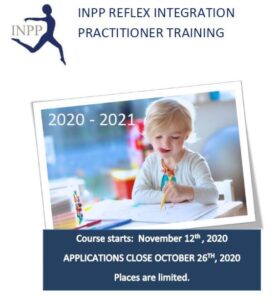 In November 2020 I will be running the next INPP Practitioner Training Course, Module 1 in Australia.  In a COVID-19 sensitive world, we are able to deliver that to you on-line.  If you want to know more about this work and the theory behind it, this is a great opportunity to learn more from the convenience of your home/home-office base!  More information about the course can be found on our INPP Practitioner Training page, or, sign up to our email list using the form below this blog to be kept informed of training opportunities.
The 2020 – 2021 course is starting to fill up (I have a maximum number of 10 places in this course because I enjoy working with smaller groups and making the work more real for you in your practice and work — small groups make that more realistic!)  I'm super excited about the people who have already registered interest.  Early Bird Registration rates (pre-October 14th, 2020, for Module 1) apply throughout the course providing considerable savings. If you would like to learn more, please contact us.
---
WANT TO LEARN MORE INCLUDING DETAILS OF THE CURRICULUM, FEES AND ENTRY REQUIREMENTS?
Subscribe to the information email update list below:

When you sign up to this list you will receive details and dates for this training programme to be conducted in 2020- 2021 through the convenience of emails — that means you don't have to keep checking websites to see what has been updated and what's coming.  I promise, you won't be inundated with emails and information, but you will be kept in the loop.  You may also receive other information regarding training opportunities offered by Integrating Thinking about the body and brain learning connections we teach about.