School Readiness is NOT Learning Readiness.
As of January 2022, we've started to house our Blog posts on our "Body to Brain Learning" Website:  bodytobrainlearning.com/blog
The first blog for 2022 is all about "Learning Readiness and School Readiness".  They're different!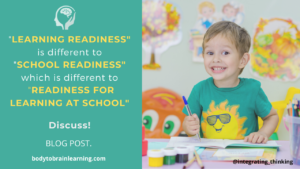 I hope you enjoy it.  Please share your thoughts and, if you want to be informed when new posts are made, I suggest you sign up for our mailing list so we can keep you in the loop about the news and updates we post.  Click here to complete that form.