Download the Body to Brain Learning Educator's Checklist
Once again, thanks for subscribing to our Educator's Body to Brain Learning Series email list where you will receive information about our first training short course: "The Body Tells a Learning Story…". and how to interpret it to improve your students learning potential.  It's great to have you here.
As promised, the button below downloads a copy of the "Body to Brain Learning Educator's Checklist."  You can use this checklist immediately.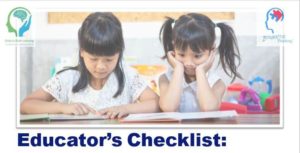 How do you use the "Body to Brain Learning Educator's Checklist"?
This is a PDF document so you can download it easily.  I suggest you use it to reflect on a student who you know experiences learning challenges in your class and check the appropriate boxes; or, observe a student you teach and check the indicators you recognise over a learning session or day.
Do behaviours occur consistently across the day?
Do the indicators you are observing change with the key learning areas and activities you have set for the children?
Are the indicators more obvious at the beginning of the day, the end of the day, near breaks?  
Page 3 of the "Body to Brain Learning Educator's Checklist" explains a bit about what the checklist can indicate about your students learning. 
THEN, if you want to learn more about the learning story these body and behavioural observations reveal about your students and their learning, then sign up for the first presentation in our series (it's FREE). In that session I will tell you more about the body and how it tells us what is happening in the learning process.  This is your chance to find out how to interpret the body story.

Session 1 is FREE.   Live. Online on Wednesday, May 27th, 2020 @ 4pm AEST. 

More information will be emailed soon to help you sign up for this learning opportunity. 
Or…  if you already know you want to attend this free introductory learning opportunity, click on the link below and sign up now. I look forward to seeing you online.
I want to sign up for Session 1 in "The Body Tells the Learning Story"! I can't wait to start learning about this body language.